Home - Blog - AboutMe - What'sNew - Photo - FreePics - FreeVideo - LiveCams - Orders - Yahoo - Links - Contact - Join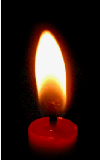 LIGHT A CANDLE FOR EMILY SANDER
LIGHT A CANDLE FOR EMILY SANDER aka ZOEY ZANE
I, Zoe Zane lit a candle for Zoey Zane.
Her murderer was captured in Mexico by the FBI (2007).
Emily never asked to use my adult name, Zoe Zane, Emily's spelling with a "y", Zoey Zane.
Her violent death drove millions to my site thinking I was dead. The news and Internet media used her death for high ratings with NO respect for her/family.
Emily was a bright, friendly girl who had a dream to be porn star

She had a plan to open up a tattoo shop and produce movies.
I find this inspiring that a girl in her teens knew what she wanted. She majored in high school business. She pierced her body.
When you pierce your body, it's a ritual. It's your body and you've chosen to do what you want with it.
She decided to use the stage name Zoey Zane. She must of known about my name
Zoe Zane (1999-2014).
She saw something in my work that moved her to use the name Zoey Zane.
I can see the energy pulsing through her model photos.
In America, religious communities have condemning words about adult stars and producers.
Sex only used for procreation, anything else is NOT of God. If you star in adult films you are sin.
About myself, Zoe Zane, I left the LDS Mormon church for more open life. The Church abandoned all my effort as a faithful member.
I desperately went for help from family and church leaders but ignored. I almost died in this process.
She is died in our hearts but large in out hearts
Emily was gutsy and ready to get free with her body.
Hiding a taboo secret from conservative family and college friends is stressful. Boldly, she told her family on Thanksgiving Day. Scorned and rejected, the
next day she was missing.
Emily hooked up with the wrong male (her energy vibration, broadcasting message abuse me). He was filled with rage towards women.
Emily Sander is one of many thousands reported missing or murdered every year.
Her death as a amateur, nude model has shaken up thousands.

We can not bring Emily back, light a candle for Emily can bring us all together in love for her tragic, violent death.
Violence against women 2014 is higher than ever before.
Women in the adult industry need to be AWARE of the power of the unconscious mind and invisible trapped emotions in their bodies.

Click here BODY CODE
On-line author Zoe Zane November 27, 2014
Howard SternTV Celebrity Zoe Zane
Home - Blog - AboutMe - What'sNew - Photo - FreePics - FreeVideo - LiveCams - Orders - Yahoo - Links - Contact - Join

providers zoe zane clips for sale zoe zane photo zoe zane deauxma zoe zane taylor wane zoe zane julie strain zoe zane madonna zoe zane lady gaga zoe zane vanessa del rio zoe zane american horror story zoe zane sexy miss lizz zoe zane ron jeremy zoe zane seka
zoe zane sammy for you zoe zane jessica lange zoe zane you tube zoe zane apple zoe zane tesla zoe zane starbucks zoe zane iphone 6 zoe zane the hun zoe zane persian kitty zoe zane IT crowd zoe zane zoey zane zoe zane emily sander zoe zane jenna jameson
Zoey Zane, 18, led a double life as an internet pornography model and student. Her real name was Emily Sander. She was a student at Butler Community College in Wichita, Kansas.
Zoey had advertised her services on the internet. On Nov. 23, 2007, Zoey met a man at a bar and followed him outside. She disappeared from then onwards and sparked a big search for her.
Around Nov. 29, Zoey's body was found at a location 50 miles east of El Dorado. Investigations led to the hunt for a suspect named Israel Mireles. He was found in Melchor Muzquiz, Mexico, on Dec. 19, 2007. The news announced that Mexico has finally agreed to extradite Israel Mireles to FBI.
Zoey Zane aka Emily Sander
zoe zane clips for sale zoe zane photo zoe zane deauxma zoe zane taylor wane zoe zane julie strain zoe zane madonna zoe zane lady gaga zoe zane vanessa del rio zoe zane american horror story zoe zane sexy miss lizz zoe zane ron jeremy zoe zane seka